Post-Surgery Recovery Accessories
May 19,2023 | curvy-faja
After you have surgery you will need items that will help you heal in for comfort and maximize your results. We carry everything you need from boards to BBL pillow , to lipo foams and more..
Here are some tips:
-If you are having lipo 360 or lipo 360 with bbl , you will need 3 foams or a lipo foam 360 foam an ab board and back board . The lipo foams will be used as follows one in the middle one on each side your ab board on top of the lipo foam for more compression and the back board in the back that will create the arch in your back these items you will need to use for at least 3 months as they will help with swelling and faja creasing . If you also had a bbl also known as Brazilian butt lift you will also need a BBL PILLOW to prevent direct pressure on your butt this pillow will elevate your butt cheeks free from compression. we want to conserve as much fat as possible !
You will also need at least two types of fajas. Generally speaking, after any procedure it is advisable to wait 2 weeks before using medium/high compression garments or stage 2.
Instead, start your recovery process with very soft compression fajas Stage 1, this is because the newly operated area is sensitive and delicate, and Stage 1 fajas are easy to wear as they have light seams. This slight compression helps enormously.
Immediately after surgery, start with stage one fajas then proceed with stage two fajas.
Stage two fajas are engineered to offer multiple levels of compression because your body will need it as it gradually shrinks in size during the second stage of post-op recovery. The best post-op faja is dependent on the body part that was operated. Full body fajas are great for the legs and arms, while short and panty fajas are ideal for multi procedures like lipo and breast.
Heres some tips to Maximize Fat survival and make your BBL Results Last!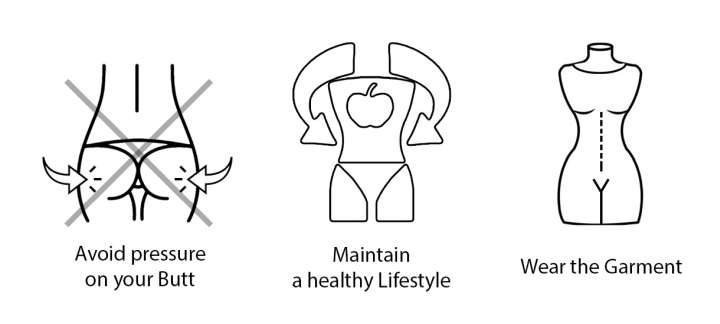 Don't sit on your buttocks for the specified period of time recommended by your doctor (usually 2 to 8 weeks). If you need to sit, use our special BBL pillow. Only sit if you absolutely need to and only for short periods of time.
Avoid putting pressure on the grafted areas. Rest on your stomach or sides and avoid placing stress on the areas where fat cells have been transplanted. If you had a tummy tuck with your BBL, resting on your stomach is not recommended.
Maintain a Healthy Lifestyle - Don't smoke and eat well-balanced, healthy meals. The results of your BBL can last for a long period of time if you maintain a healthy lifestyle.
Wear your compression garment all day, every day (24 x7) for the first 3 to 4 weeks. Then Just during the day after that. Make sure it fits properly and that it's comfortable and does not squeeze the buttocks.
Comment